You might have heard about or even been to Jamestown's forts, lighthouse, shore or its biggest annual street art festival, Chaley Wote. There are lots of compelling things to see and know about this old district in Accra. Whether you're coming from the western part near the Korle Lagoon, or the eastern part where Accra Arts Centre faces Bank of Ghana next to Makola market, you'll come across the many scenes that make up the hustle-and-bustle life in this enterprising community.
Jamestown's planning also points to its historic past – it was intentionally built in a labyrinthine layout in the colonial era to make marauding slave traders lose their bearings during unsolicited captures. Today, the James and Ussher forts still stand separated from the Gulf of Guinea and the Atlantic Ocean in the township that was once the eye of Accra.
Jamestown Health and Sanitation in Covid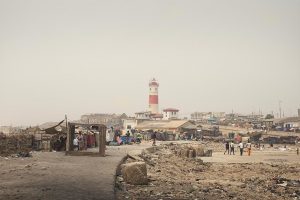 Source: Julian Lanoo
Jamestown's population growth is also alarming as the community is not equipped to handle increasing needs of food and sanitation. To a large extent, the challenges of sanitation in Jamestown are linked to the inability to create proper disposal points for solid waste, lack of enforcement of sanitation laws, population growth, poor financing of sanitation policies and poor sanitation infrastructure.
Dialogue with the locals
During our journey through Jamestown, we spoke with many individuals of the community – including a tour guide named Nii Kwartei Owoo and a chief fisherman who goes by the name Samuel Nii Quaye – to assess how their livelihoods were affected by the pandemic.

Lockdowns: Effects on the Urban poor
We looked at how the lockdown strategies in Ghana affected Jamestown. Our aim was to identify lessons that could be learnt from Ghana's policy response to the pandemic and to gain insights that could be useful for the preparation of future policies.
Job Security: One of the major sectors affected by the lockdown was the labour market. Workers in Jamestown were more than likely to drop out of work in the early phases of the pandemic. Only one out of three workers continued working throughout April 2020 in Jamestown, compared to two out of three in districts that had no lockdown. The vast majority of the people interviewed reported workplace and business closures due to government regulations as the main reason for this break in economic activity. For a community that is heavily dependent on tourism as a primary means of livelihood, a cessation of all economic activity, in addition to a lockdown was nothing short of catastrophic.
Restrictions on essential shared spaces: Communities like Jamestown live a communal lifestyle, and so the lockdown undoubtedly caused serious problems. Nii Kwartei Owoo, a popular tour guide and progressive community leader of the Jamestown community, vivified these assertions during an interview.
"The whole lockdown felt like it was coming from a more Eurocentric approach to me, where I think if our government had adopted an Afrocentric approach, they would have come up with a more customized and well-suited solution for our community."
In addition he stated that, as compared to Europe where lavatories, kitchens and bathrooms are typically in-built in each private household, the Jamestown community tends to share these places of convenience publically in compound houses. The government not taking this into consideration before asking them to stay indoors therefore proved problematic.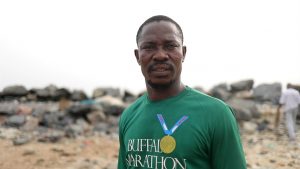 Samuel Nii Quaye, the chief fisherman we interviewed at Jamestown also mentioned how the measures put in place by the government to provide free water during the lockdown proved futile in Jamestown.
"People came to put their big big Poly Tanks on the streets to sell water, whilst the commercial taps were locked. There was no free water. We paid for everything." The reality here was that living became even more expensive, contrary to what people had expected.
Punishing the poor for being poor: The strict lockdown restrictions were not the most brilliant approach for a community like Jamestown because, first of all, the people are extremely poor, thus regulations like the GH₵ 1000 fines were ridiculous and unrealistic for such people.
Rethinking lockdowns in afrocentric settings
With a continent like Africa whose social setting is principally communal, it becomes immediately obvious that this communal setup is the fabric of the economy and the core of livelihoods. What would be realistic in a combative response is to model strategies that would be tailored to the lifestyle mechanism here. A lockdown is more suited for single household societies as opposed to communal ones.
Engaging with the community members of Jamestown on their experiences during the pandemic was an interesting and revealing experience. The main issues raised were the effects the lockdown had on the community and the need for a customized approach in dealing with lockdowns in the future. Subsequent follow up visits are being planned.