BudgIT Ghana, Oxlade Consulting, with support from the Open Society Initiative for West Africa (OSIWA), hosts a Business Resilience Project Meeting in Aflao, Volta Region – Ghana. 
The first case of the new coronavirus (SARS-CoV-2) was detected globally in November 2019. This incident marked the beginning of an unprecedented pandemic that affected and continues to affect the world in 2022, making it one of the most severe global shocks in recent history. The direct health effects and loss of human life are catastrophic, and the unprecedented disruptions to societies, social cohesion, and economies will be felt for decades. As the number of COVID-19 cases in Ghana continues to rise, the economy braces for a shock of unprecedented severity and complexity.
In a national context already weakened by prolonged sluggishness, heightened inequalities, and policy uncertainty, the health emergency has impacted the economy, causing a simultaneous supply and demand shock, with losses in the formal and informal labor sectors.
Despite the significant interest and ongoing investment of local and national governments, non-governmental organizations, and development agencies in strengthening the resilience of local communities in Ghana, it is unclear which domains should be prioritized in policies and programs for micro, small, and medium-sized enterprises (MSMEs) to recover.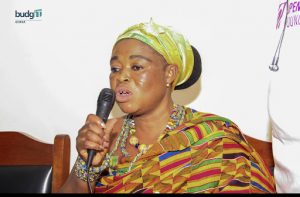 We visited Aflao, a town in the Ketu South District of the Volta Region bordering Togo in Ghana. It is the twenty-eighth most populous settlement in Ghana, with a population of 96,550, due to the importance of the town to the transformation of border trade between Ghana and Togo.
During the local community engagement meeting in Afloa organized by BudgIT Ghana under the theme "Pre and Post Covid-19 Pandemic Socioeconomic Resilience strategies: Impact and Lessons from Stakeholders" as part of the Advancing Community Access to Equitable COVID-19 Response project. We engaged local community leaders and members on the role of the government in supporting local businesses. 
Mama Hedenya Xenyo II, Queen Mother of Aflao-Aflagatigorme, emphasized in her opening remarks that "it is the responsibility of local and national authorities to analyze the social and economic resilience/sustainability in communities, taking into account the relationship between social cohesion (solidarity), social and natural/human capital, and sustainable local economies, which foster the foundation for national development and prosperity."
The Queen mother emphasized the significance of decision-makers paying close attention to the resilience strategies employed by local businesses to combat the adverse effects of COVID-19. This will make it easier to develop comprehensive plans to support MSMEs in the hinterlands and get their economies back on track. 
As the sub-region and its countries respond to the COVID-19 pandemic, the project aims to collect, scale, and transform the experiences of young people, women, and people with disabilities – primarily small business owners – regarding resilient approaches and resilient-driven community practice across West Africa. 
Mr. Khiddir Iddris, the Research Lead at BudgIT Ghana, reported that COVID-19 had a significant material, economic, and social impact on small and medium businesses, affecting business owners and their families. Mr. Iddris stated, "The COVID-19 pandemic has resulted in abrupt production halts, value chain disruptions, uncoordinated border closures, reduced local and international trade flows, and travel bans, all of which have taken a toll on business activity levels."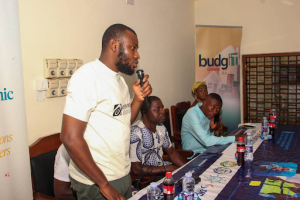 In addition, the International Labor Organization (ILO) recently issued a warning that business losses in the first half of 2022 could be equivalent to more than 400 million full-time jobs worldwide and that the livelihoods of 1.6 billion families in the informal economy are at immediate risk. More than half of the population of Ghana is employed in the informal sector without benefits or social security. In this context, it is impossible to overstate the socioeconomic costs of the overall situation.
A 47-year-old female merchant lamented, "If people are not permitted to leave their homes and can no longer participate in daily life (as usual) by applicable protective measures, or if they are required to be absent from their waged business or school, this signifies a disunification of life. The isolation accompanying a disengaging crisis like the COVID-19 pandemic exacerbates the effects on businesses and erodes the solidarity of families and societies.
Another 32-year-old woman merchant said, "COVID-19 showed how fragile our business ecosystem is, but we were able to adapt and get back on our feet by using strategies to lower operating costs and thinking about applying for government grants to make up for the lack of cash flow."
However, "Government financial support has always emphasized access to credit, to the detriment of micro and small enterprises." The government must better coordinate these support initiatives according to their stated goals. "And in most cases, awards are given to party cronies who do not engage in commercial activity," A market queen aged 49 emphasized.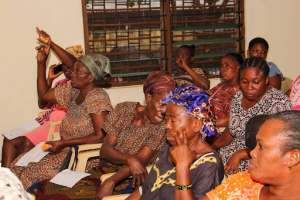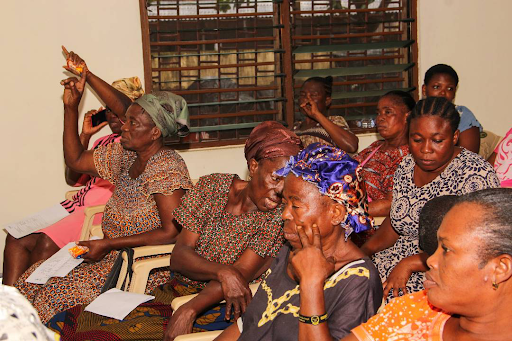 Alhaj Mohammed Amuzu, the Assemblyperson of Aflao, analyzed the impacts and changes in the social dimensions of rural communities in Aflao and concluded that "it is essential to comprehend the resilience of social-economic systems and the impact of business losses in rural communities in Aflao due to COVID-19."
"The economic impact of the epidemic on Ghana is significant." "These factors are putting the resilience of many local businesses, the quality of governance, and the efficacy of local and international cooperation to the test," he said.