Small businesses are the backbone of any economy, and with the ripple effect of COVID-19 on economies worldwide, their protection has become more critical than ever. The Ghanaian government has initiated several interventions focusing on credit-related initiatives to address the economic downturn during the pandemic.
BudgIT Ghana surveyed business owners to see how the COVID-19 pandemic affected businesses all over the country. The Micro, Small, and Medium-Sized Enterprise (MSME) Owners in Nkawkaw, Kwahu East District (a region in south Ghana's Eastern Region), participated in BudgIT Ghana's effort to evaluate the performance of some of these programs in terms of their accessibility, sustainability, and impact. These well-known business owners say that the COVID-19 crisis is still hurting the local economy three years after it happened.
We confirmed this during a meeting with residents of Nkawkaw—BudgIT Ghana in collaboration with Oxlade Consulting and the Open Society Foundations on the OSIWA Project. The OSIWA project aims to analyse the nation's post-economic resilience of small-scale businesses. The town hall meeting was on the theme: "Pre and Post-COVID-19 Pandemic Socio-Economic Resilience Strategies: Impact and Lessons from Stakeholders."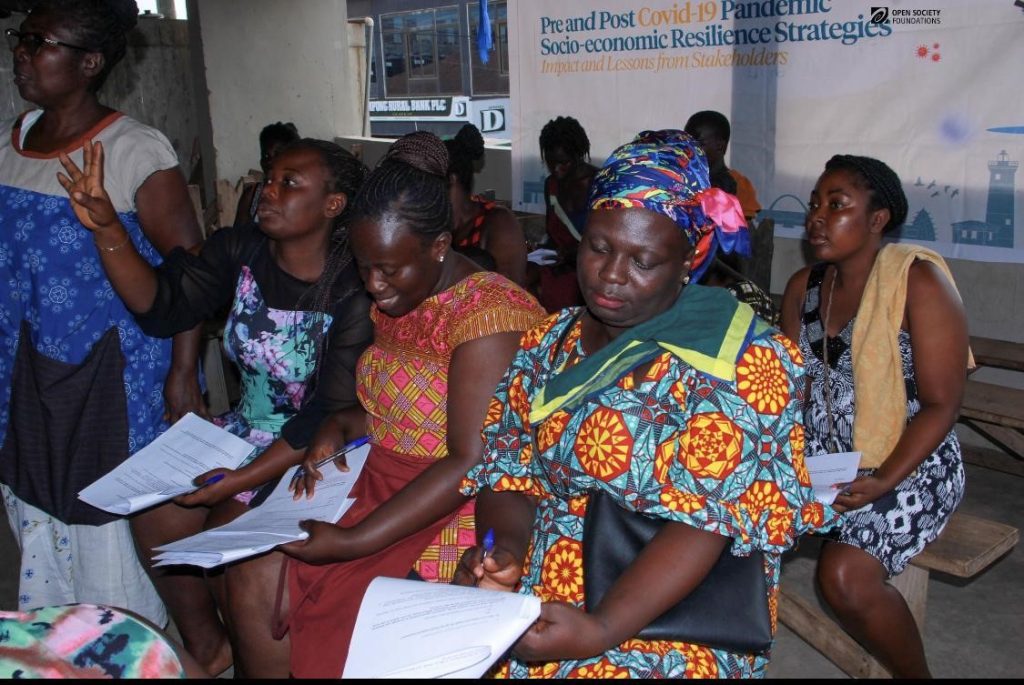 Research and Program Officer at BudgIT Ghana, Mr. Iddris, discussed BudgIT's work, including efforts to enhance vaccination equity and promote health system accountability through research and collaboration with local groups and government. 
He emphasised that the government, like others worldwide, is critical in protecting individuals and organisations from the pandemic and its adverse economic effects. "It is important that we analyse the socio-economic resilience of enterprises and the relief packages that the government has provided so far."
Participants discussed their experiences during and after COVID-19, focusing on their businesses' adaptation and coping mechanisms, employment and working conditions, effects on wages and incomes, impacts on food consumption, borrowings, and asset holdings, and the extent of government support.
Recounting her experience during the pandemic, Mama Rose Dedaa, the market queen of Nkawkaw, stated that "we're still recovering from it; our businesses are struggling to break even." 
The Secretary to the MSMEs, Mr. Emmanuel K. Osei, lamented, "We received no assistance from the local assembly or the national." Several Participants claimed that the government's trade restrictions and confinement measures caused a halt to their daily economic activity and that they received no assistance to help them cope with the financial burden.
"We're still feeling the heat, and now that this organisation has come to hear our worries, I'm hoping that something constructive will happen." remarked a 48-year-old foodstuff vendor, Boatemaa Rita. From the town hall engagement, it was clear that business owners experienced a decline in supplies, sales, and financial fragility mainly due to the COVID-19 pandemic and its resultant effects.
Small businesses, also known as small and micro enterprises during town hall meetings, have been steadily growing for the past decade and have been recognized by the government and key stakeholders as a driver of economic growth and job creation. However, in the face of the coronavirus pandemic, most of these businesses will struggle to stay afloat in the current environment.
Our findings from the survey revealed that the majority (97%) of business owners asserted that their social and economic activities were immensely affected by the pandemic, coupled with reduced business operation times and utility issues burdened and made families felt so devastated. This made families adjust and make adaptations to their daily routines. Businesses that were surveyed struggled to adapt during COVID-19 and need access to better resilience mechanisms. According to the discussions from the town hall meetings, many micro-enterprises did nothing to address the COVID-19 dangers. They were more likely to rely on welfare-reducing strategies, such as pulling their kids out of school or investing money in a child. The two most effective financial instruments were business profits and savings.