The CTAP (COVID-19 Transparency and Accountability Project) initiative is a civil society-led effort to generate information on how COVID-19 funds were used by governments and also to bolster citizen engagement in participatory governance through the use of research, tracking service delivery and the building of local coalitions.
Under this initiative, Budgit Ghana held another town hall meeting on the theme "Stakeholders role in Boosting Health Sector Accountability and Vaccine Equity in Ghana," at Obuasi's Municipal Labour Office Hall on Wednesday 6th July 2022,. This meeting was geared towards reviewing and analyzing how various CSO's, citizens and stakeholders within Obuasi's Municipality can hold the government more accountable and liable when it comes to the health sector.
Mr. Khiddir Iddris, Budgit Ghana's Lead Researcher, welcomed all participants to the discussion before going into details about the scope of work of Budgit Ghana, vis-à-vis our C-TAP, OSIWA and Ford Extractives projects. He also highlighted our key objectives as a Civil Society Organization and tied this with the main agenda for the gathering.
He made mention how relevant it is for citizens and stakeholders to understand the advocacy roles they need to play in enhancing transparency and accountability within health sector in Obuasi .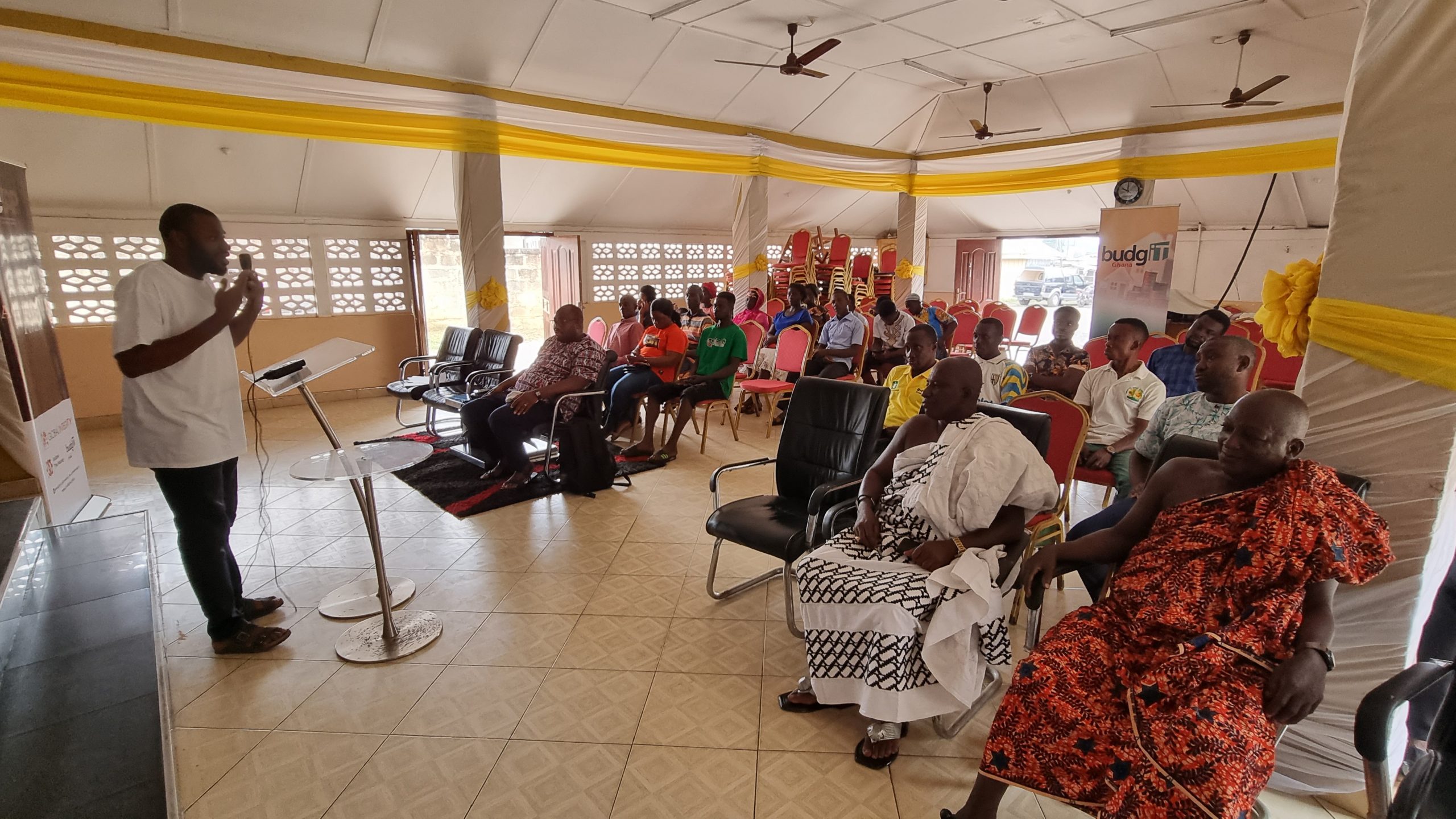 Mr. Felix Ankrah, Deputy Country Lead at Budgit Ghana, in his keynote address also spoke about the key factors that come into play when it comes to healthcare reforms.
"Transparency is very key in healthcare reforms. It promotes accessibility, affordability and availability. And all these add up to the efficiency of the healthcare system. We all know the main driving factors for economic growth are education and health. The country cannot move forward If citizens aren't well educated or healthy. This is why it is needed for us to come together and build a stakeholder coalition to fight for transparency within the health sector." he said.
He went on to provide information about his findings during a needs assessment survey which involved traveling to over ten regions in Ghana last year. After conducting the survey, he found out that the majority of participants (mostly within rural sectors) claimed they needed schools and hospitals.
"If you look at Africa's Doctor to patient ratio, it's huge, but if you look at that of the United States, the doctor to patient ratio on average is about 1 to 10 people. But for Ghana, it's likely more than 1 to 1000 patients, which is disturbing. If there was proper accountability, a certain standard and ethic would have been set with frameworks to regulate these things, so we wouldn't have issues like nurses showing attitudes towards patients, or patients having to fuel up ambulances, which is becoming a norm."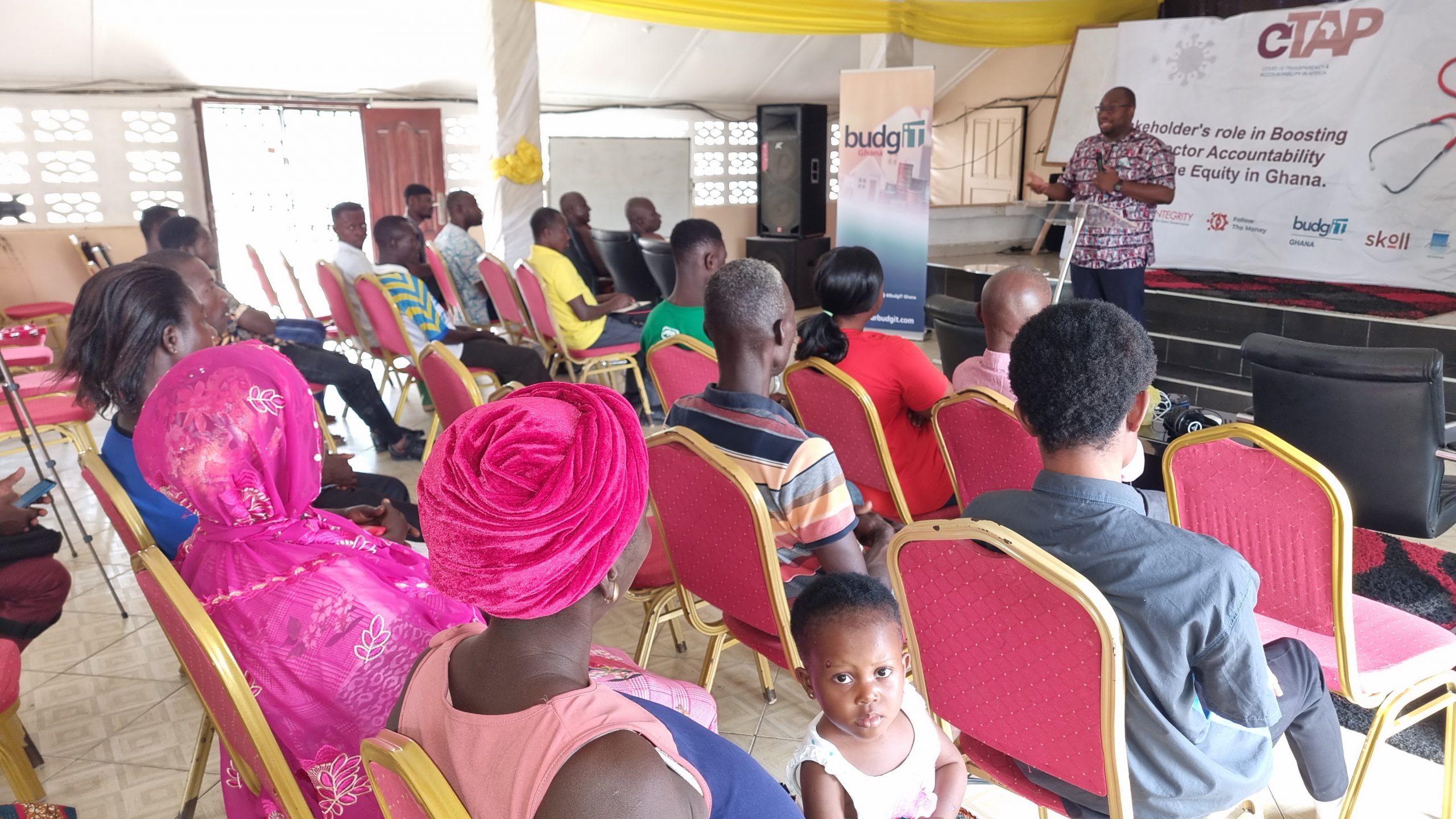 Mr. Felix Ankrah's very insightful keynote address provided for an open and lively discussion in which many participants spoke on their various experiences during and after the Covid 19 pandemic. The open discussion was moderated by Isaac Kwame Mensah, a member of Budgit Ghana who spoke fluently enough to enable participants voice out their grievances.
One participant, Mr. Akwasi Frimpong, a local Obuasi farmer, particularly expressed how in the beginning, everyone took the news of the disease lightly, but after some time when it got serious and people noticed the death rates, everyone became more conscious of the disease and began following the government's lead.
"The Covid affected us very much, especially when they asked us to wear nose masks. When we put it on we couldn't breathe, so a lot of us didn't want to put on these nose masks. However, the government forced us to wear them and even brought the police to enforce it and some of them were taking money from us for failing to wear them, which was bad."
Mr. Aboagye Yeboah another resident of the town, also recollected the first suspected case recorded in Obuasi which caused fear and panic which proved to be negative after further contact tracing and investigations. He recalled how the police authorities mandated citizens to observe Covid-19 protocols right after, and he even spoke on how they were threatened by the police officers of dire lawful consequences if they refuse to comply with the covid-19 protocols set out by the government.
The Town Hall Meeting was well-attended by key stakeholders including government officials, representatives of civil society organizations, the business community and the media.