What Exactly is Agenda 111? 
The Ghanaian government introduced Agenda 111 in 2021 as a healthcare development plan to give Ghanaians access to high-quality, affordable healthcare.  According to the Ministry of Health's information, the project will construct 101 new hospitals and upgrade existing ones. It would also train more healthcare professionals and improve the supply of essential medicines. It was named after the 111th day of the year, January 7, when it was launched. It is a signature project of President Nana Akufo-Addo's second term.
Let's Explore the Current State of Ghana's Healthcare System.
As of May 2020, Statista estimates that Ghana's healthcare infrastructure consisted primarily of public hospitals (1,625), 928 private hospitals, 220 CHAG facilities, 79 quasi-hospitals, 2 NGOs Health Facilities, 2 Islamic hospitals, and 1 mission hospital.  2,857 hospitals served more than 33,000,000 people, emphasizing the need for additional healthcare facilities to accommodate the growing population. 
An abstract from a 2019 study showed that about 81.4% of the Ghanaian population had access to primary healthcare, while about 61.4% had access to secondary-level and tertiary care is about 14.3%. But despite these relatively high rates of accessibility, about 30% of the population still has to travel far to access primary facilities. To increase access to services, Ghana's President, Nana Akufo-Adoo, launched the Agenda 111 projects on Tuesday, August 17, 2021, to construct 111 hospitals across all 216 districts in Ghana and complete them by 2023.  
The primary objective of the Agenda 111 projects is to significantly enhance the provision of high-quality healthcare services at the district level while simultaneously improving access to healthcare for every individual in Ghana. The plan aims to build 101 new hospitals, including 6 regional hospitals, 20 district hospitals, and 75 community-based hospitals; Upgrade 250 existing health facilities; Train 20,000 new healthcare professionals; improve the supply of essential medicines; and establish a national health insurance scheme.
How Will The Government Fund this Project? 
As shown in GhanaWeb's publication on August 16, 2021, the Ghanaian government has secured a $100 million startup fund through the Ghana Investment Infrastructure Fund (GIIF) to kickstart the project.  Each hospital will cost $17.60 million to build, with $12.8 million for construction and $4.8 million for equipment. However, according to the publication of GhanaWeb on August 19, 2021, the Ghana Coalition of NGOs raised a concern about the ambiguous way the government intends to raise funds to execute the projects to the completion stage. This was after the President's advisor on Health, Dr. Anthony Nsiah-Asare, said the government would undertake all project costs without clearly describing how and where the funds would be raised.
On August 23, 2021, Deputy Finance Minister Dr. John Kumah informed Joynews that the government had used 36 million Cedis from the 600 million Cedis budget for the District and Regional Hospital Projects, or 100 million US Dollars, as previously announced.  The Bank of Ghana (BOG) Health Infrastructure Account received the funds to implement the projects, and contractor disbursements will follow the project work plan.  In other regions, the program has begun despite heated location conflicts, contractor delays that led to the termination of three contracts, and unexpected topographical challenges in Obuasi, Tarkwa, and Ayanfuri. 
How is the Agenda 111 Project going? 
On June 29, 2023, Minister for Information Kojo Oppong Nkrumah said that 88 of the 111 planned hospitals are under construction, reaffirming the resolve to realize this vision. The Minister provided important district development updates: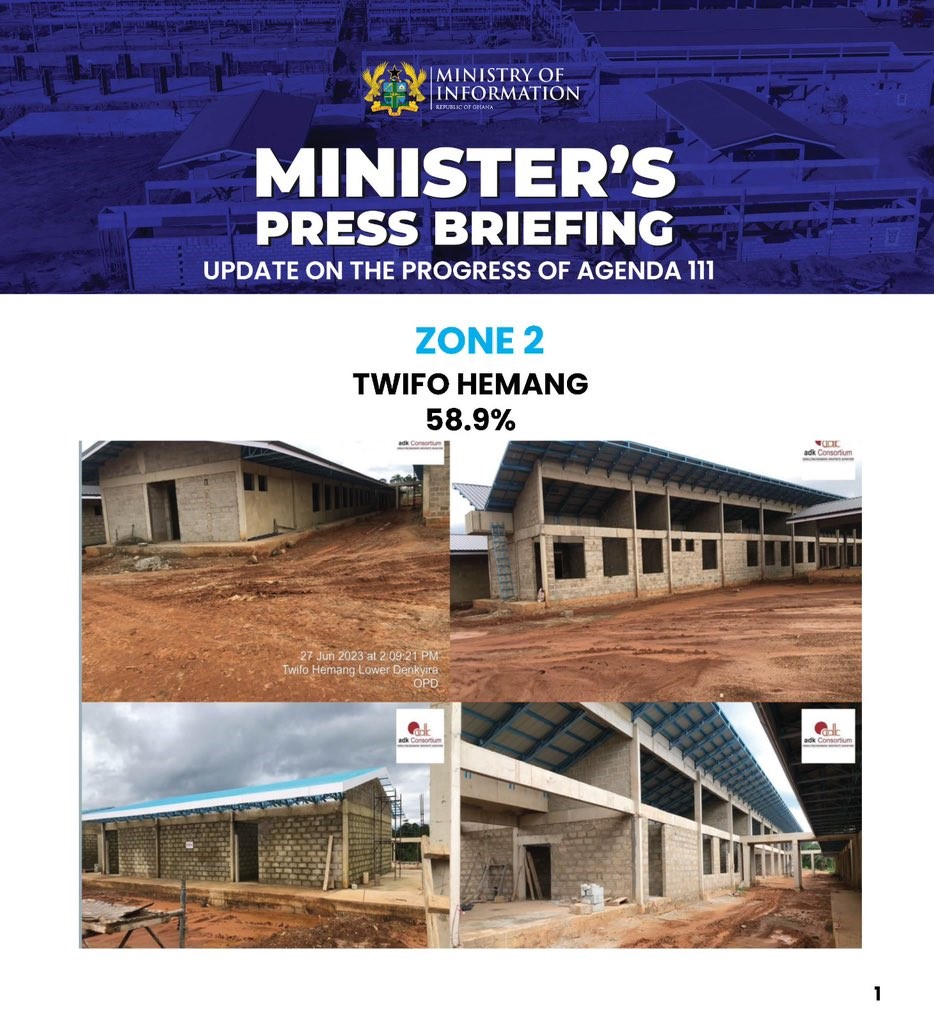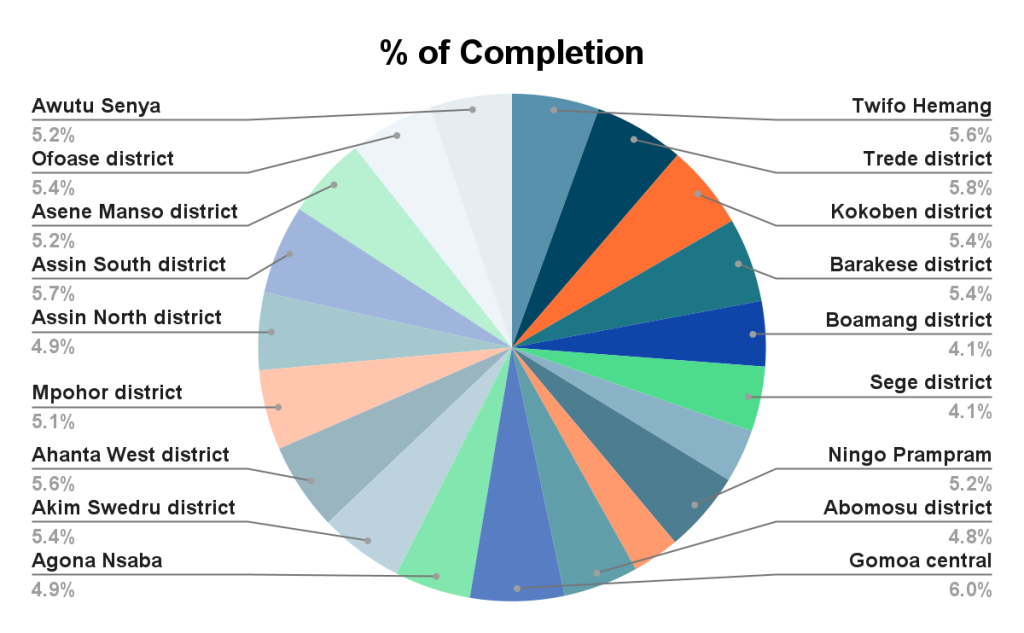 Considering this update, one could ask if President Akuffo Addo would fulfill his promise to finish this project before leaving office in 2024 or if it would be abandoned like Kumawu's 120-bed hospital project. President Akuffo Addo allegedly abandoned the Kumawu project, which former President John Mahama started in 2015 and was 65% complete by the end of his term. Unfortunately, the once-promising structures are now covered in overgrown greenery and deteriorating.
The plan to build 111 hospitals is ambitious, with a $1.76 billion price tag. This project substantially exceeds the $1.1 billion budgeted for health in 2022, making Agenda 111 the most significant investment in Ghana's health sector ever. However, we must analyze the implications of the incumbent government's audacious move, as it may necessitate additional borrowing from foreign sources in addition to the IMF and World Bank bailouts with their stringent restrictions. As a result, Ghana's already considerable state debt, which stood at GHS 575 billion as of November 2022, may rise further. We must carefully assess the benefits of this critical endeavor against the potential financial consequences.
What Role Can Citizens Play to Drive Service Delivery? 
As Ghana attempts to alter its healthcare system radically, many issues and fascinating facts collide like a dance. Based on the recent status of projects reported by the Presidential Advisor on Health,  it is uncertain that the current administration will complete these projects before the conclusion of its tenure. Considering the significant investment and the proposed benefits to citizens, it is crucial that Ghanaians collectively demand the completion of these projects before the incumbent government's tenure ends in 2024 to avoid waste of resources and loss of opportunity to assess quality and affordable healthcare. When citizens work together to track public projects in their communities, it promotes service delivery. 
By Evelyn Oluwastosin Olukeye